Sunday Morning Service 13th June 2021 at 10:30
Sunday  Evening Services ( at 18:30)
Sunday evening services are now being broadcast via ZOOM. Login details will be circulated via the "Announcements" WhatsApp Group.
Previous services (including Sunday morning/evening, Easter Services, "Good Morning Rehoboth" and LittleVerse) can be found here
Midweek Bible Study and Prayer Meetings, together with Saturday Morning Prayer are continuing via ZOOM.
Login details will be circulated via the "Announcements" WhatsApp Group. Contact our Pastor, Calix Furus for details.
COVID Secure Arrangements
Sunday Morning services are being held in the chapel (and live streamed) with just the evening services being live streamed. Please make sure you fill in the booking form that Andrew Cooke is circulating  (via WhatsApp Rehoboth Announcements) to ensure having a seat at the morning services.  If you don't have access to WhatsApp please contact Andrew or our Pastor.
Please make sure you bring (and wear) a suitable mask.
The chairs have been arranged to ensure that the distances between  the seats are consistent with Government Social Distancing Requirements.
Every person attending will be directed to their specific allocated seat by a steward.
About Rehoboth
About Rehoboth…You may be wondering why the Church, located at the end of a late Victorian street has such an unusual name. Unusual it may be, but in the Bible we find mention of it very early on in the Old Testament, where Isaac ordered  a well to be dug for water after various disputes had taken place over the rights of the wandering Israelites to draw water from other peoples wells. They dug a new well and no one complained about it, and so they named it Rehoboth which means "the Lord has given us room and we will flourish in the land" (Gen 26 v 22).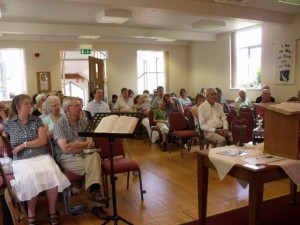 Our church may not be very big but we like to think there is room for everyone who comes along and that those who do will have no cause to complain! _____________________________________________________________________________________________________________